City of the Dawn – Christopher Buhrman – Etats-Unis, Inde, 2009 – 80 mn
Synopsis :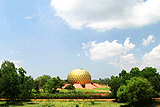 « La ville de l'Aube » est un documentaire qui explore Auroville, une ville expérimentale créée pour être une incarnation vivante de l'unité humaine.

Ce laboratoire veut pour l'avenir dépasser tout ce qui sépare les gens : la religion, la politique, l'argent, la race, la position sociale, l'origine, etc…, et trouver de nouvelles façons de coexister qui profite à tous.

Ici, des citoyens de 40 nations consacrent leur vie à cette aspiration.
Directeur : Christopher Buhrman

Casting : Francine Roussel – Mark Morettini – Ravi Kappor

Producteur : Michael Joyce

Script : Christopher Buhrman – Francis Rothluebber

Musique : John Tanner

Photographe : Chip Duncan – Robert Huck

Son : David Conner

Editeur : Jerry Riedel
Contact : mjoyce33@gmail.com
Source : http://www.festival-esff.com