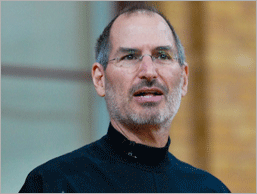 In California's Silicon Valley, failure is often seen as a badge of honor, evidence of survival of a tour of duty in the highly competitive world of high-tech start-ups and venture capitalists.
In an interview about the economy with BusinessWeek last year, the Dalai Lama quoted a Tibetan saying : "Nine times failure, nine times effort." Apple (AAPL) CEO Steve Jobs, reportedly a Buddhist himself, has learned this lesson the hard way during a career of ups and downs but now he sits atop arguably the most innovative consumer tech company in the world, and his every utterance and move is obsessively followed by supporters and detractors alike.
But Jobs isn't one to share details of his personal life. In what was for Jobs a remarkably personal and frank commencement address at Stanford University in June, 2005, he talked about how failure led him back to success, and also referred to « Beginner's Mind, » a Zen Buddhist idea made famous in America during the 1960s through the published lectures of the late San Francisco-based Zen Master Shunryu Suzuki.
The concept refers to the openness and eagerness of a learner. Suzuki said, « In the beginner's mind there are many possibilities, in the expert's there are few. » Jobs told the graduating class, "The heaviness of being successful was replaced by the lightness of being a beginner again, less sure about everything."
Back when Jobs was a real beginner, he founded Apple – then called the Homebrew Computer Club – in 1976 with engineer Steve Wozniak and spun their bedroom- and then garage-based business into a $2 billion company.

A college dropout, he traveled to India and returned, according to an article in the Telegraph, "in search of philosophical enlightenment." His wedding in 1991 was officiated by Zen Buddhist monk Kobun Chino Otogawa.
He was ousted by Apple's board in 1985. He went on to buy Graphics Group, renaming it Pixar, which became a pioneering CGI studio, home of hits such as Toy Story and Finding Nemo.

He returned to Apple in 1997 and ushered in a new generation of Apple products, like iTunes and the iPhone.
According to a 2008 Fortune magazine article, after being diagnosed with a rare but operable form of pancreatic cancer in October 2003, Jobs initially decided to follow alternative treatments instead of surgery, much to the consternation of his close circle of friends and Apple's board.
Jobs did end up having the surgery in July 2004, but rumors of further health issues have surfaced: Jobs took a six-month leave beginning January 2009 to take care of what he called a hormone imbalance, for which he blamed his weight loss. It turns out that he had a liver transplant that spring.
"Of all the different kinds of awareness, awareness of death and impermanence is best," the Dalai Lama wrote in The Way to Freedom. In his Sanford University address, Jobs spoke of death as being a great motivator.
"Remembering that I'll be dead soon is the most important tool I've ever encountered to help me make the big choices in life," he told the assembled graduates. Bloomberg took that to heart, when it mistakenly published Jobs' updated obituary.

But Jobs was back and in form this January, introducing the iPad at San Francisco's Yerba Buena Center for the Arts, and it wasn't that much later the those familiar lines started forming around Apple stores across the country.
Author : Danielle Beurteaux
Source : http://www.minyanville.com