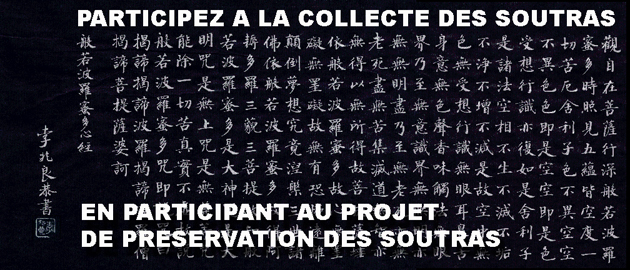 APPEL A TOUTE PERSONNE OU COMMUNAUTE, GARDIENNE D'UN SUTRA.

Chaque communauté bouddhique utilise des mantras ou des sutras, une pratique transmise depuis l'époque du Bouddha. Aucune étude d'envergure n'a été faite sur l'ensemble des sutras. C'est ce que se propose de faire Buddhachannel en quelques années. Nous vous proposons de créer ensemble cette base de données unique dans le milieu du bouddhisme.

PROJET DE PRESERVATION DES SUTRAS ET MANTRAS

Un projet de Buddhachannel au service de tous.

Nous envisageons de mettre en ligne de façon gratuite chaque sutra (ou mantra) sous la forme suivante :

1) le texte écrit dans sa langue d'origine

2) la transcription écrite en phonétique

3) la traduction en français et anglais

4) une bande-son ou une vidéo de ce sutra ou mantra

5) un commentaire expliquant le sens de ce texte

Toute personne ou communauté qui peut apporter sa pierre à ce projet est bienvenue.

Les prises de son pourront être enregistrés dans nos studios à Paris (c'est le mieux) ou sur place (dans la communauté par exemple).

Il est possible d'amener dans cette base de données les textes dans d'autres langues : espagnol, portugais, russe, et tant d'autres langues. Nous suggérons à Ramon Costa, notre ami Zen qui a soutenu Buddhachannel en Inde de présenter les sutras en catalan…

Si vous voulez participer, envoyez-nous un mail à info@buddhachannel.tv

QUELQUES EXEMPLES :

Le SUTRA DU COEUR EN TIBETAIN




TRADUCTION EN ANGLAIS

When the holy Bodhisattva Avalokitesvara had truly grasped the transcendent wisdom, he realized that visible form is only illusion. The same applies to its perception, to its names and categories, to discriminative intellect and finally even to our consciousness. They are all illusion. With this realizaton he was beyond all sorrow and bitterness.

Disciple Sariputra! The material is not different from the immaterial. The immaterial and the material are in fact one and the same thing. The same applies to perception, concepts, discriminative thinking and consciousness. They are neither existing nor not existing.

Sariputra! All things therefore they are in themselves not good and not bad, they are not increasing and not decreasing.

Therefore one may say there are no such things as form, perception, concepts, thinking process, and consciousness. Our senses such as eye, ear, nose, tongue, body and mind are misleading us to illusion; thus one may also say there is no reality in visible form, sound, smell, taste, touch and mindknowledge. There are also no such things as the realms of sense from sight up to mind, and no such things as the links of existence from ignorance and its end to old age and death and their end. Also the Four Noble Truths* are nonexistent, just as there is no such thing as wisdom and also no gain.

Because the holy Bodhisattva who relies on transcendent wisdom knows that there is no gain, he has no worries and also no fear. Beyond all illusion he has reached the space of highest Nirvana.

All Buddhas of the past, present and future, found highest perfect knowedge because they relied on transcendental wisdom.

Therefore we ought to know that the great verse of the transcendent wisdom is unsurpassed in its splendor, and that it appeases truly all pain**. It reads:

GATE, GATE, PARAGATE, PARASAMGATE BODHISVAHA!

Go, do it, make the step, you all must break through to the Absolute, then you will be immediately enlightened.

SUTRA DU COEUR EN CHINOIS

般若波羅密多心經(中文版-略本)

唐朝玄奘法師漢譯版.
 
觀自在菩薩, 行深般若波羅密多時, 照見五蘊皆空, 度一切苦厄。

舍利子, 色不異空, 空不異色, 色即是空, 空即是色; 受想行識, 亦復如是。

舍利子, 是諸法空相: 不生不滅, 不垢不淨, 不增不減。

是故空中無色, 無受想行識。

無眼耳鼻舌身意, 無色聲香味觸法。

無眼界, 乃至無意識界。

無無明, 亦無無明盡; 乃至無老死, 亦無老死盡。

無苦集滅道。無智亦無得。

以無所得故, 菩提薩埵, 依般若波羅密多故, 心無罣礙; 無罣礙故, 無有恐怖; 遠離顛倒夢想, 究竟涅槃。

三世諸佛, 依般若波羅密多故, 得阿耨多羅三藐三菩提。

故知般若波羅密多, 是大神咒、是大明咒、是無上咒、是無等等咒, 能除一切苦, 真實不虛。

故說般若波羅密多咒、即說咒曰: 揭諦、揭諦, 波羅揭諦, 波羅僧揭諦, 菩提薩婆訶。

A nous tous de continuer à alimenter depuis nos archives.

Ce serait bien d'avoir la source, la provenance des textes.