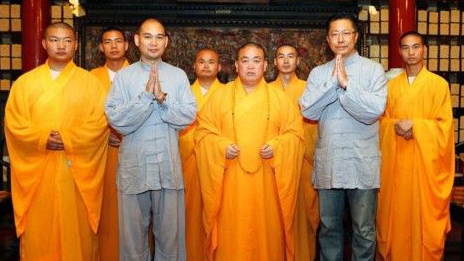 In Weibo posts, he says he plans to 'build world's biggest kung fu and language promotion centre' in Denfeng while many social media users doubt he is a true believer
The founder of Crazy English, Li Yang, has converted to Buddhism, according his posts on Weibo.
Li, who has been tainted by a domestic violence scandal that gained wide attention, confirmed media reports on the social media site this morning that he converted on July 26 and posted pictures of him at the Shaolin Temple with the abbot, Shi Yongxin.
By converting to Buddhism, Li said, in a short article he posted, he aimed to bring his "Crazy English" to a new level. Li started promoting "Crazy English", which places heavy emphasis on practicing English orally and in a loud way, in 1994. He claims at least 20 million people have learned English through his methods.
Li wrote on Weibo that he planned to "build the world's biggest kung fu and language promotion centre" in Dengfeng, where the Shaolin Temple is located. He said the first Shalin Kung fu Crazy English winter camp would be held at the temple next year.
Li's conversion came as a surprise to many social media users. Some doubted whether he was a true believer. "Li Yang's conversion is hype through and through. He is not being sincere," posted weibo user Zhang Zichen.
Another quipped that "in the near future, (we) can see hundreds of Shaolin Temple disciples shouting English crazily".
Li drew much criticism after his former wife, Kim Lee, posted pictures of her being abused by him on social media in 2011. Li admitted to committing domestic violence, and his wife divorced him on those grounds last year.
Shi Yongxin, the abbot of Shaolin Temple, has also been caught up in controversies in recent years, including accepting a one million yuan (HK$1.25 million) SUV from the local government. He has also been criticised for commercialising the Shaolin Temple.
In his Weibo article, Li thanked Shi Yongxin for hosting the conversion ceremony and explained that "the wisdom" he had been seeking for many years was found in Buddhism. "(I) really want to spread Shaolin kung fu and culture to every corner of the world … and let everyone in the world benefit from it," Li wrote. He added that he had been a follower of the Shaolin Temple from an early age and "worshipped" Shi Yongxin.
Li encouraged people to join him in the "beautiful world of Buddhism" and to "learn English well and spread and promote China's image and Chinese culture".
---
– Source : www.scmp.com