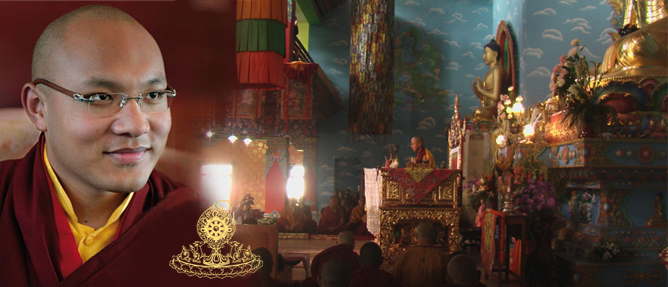 Preamble
Indian National Congress

Congress President, Sonia Gandhi

24 Akbar Road – New Delhi, India
Dear Respected Sonia Gandhi,
We, the undersigned, are deeply concerned about His Holiness the Karmapa, Orgyen Trinley Dorje who has been living in exile in India since 2000. As he is not a criminal, but is in fact an important spiritual teacher for the entire world. This confinement contravenes the fundamental principles to the preservation of human dignity and respect for universal, fundamental and ethical principles. We call on you to secure his immediate and unconditional release.
In article 51 (c) of The Constitution of India it states; "the State [India] shall endeavor to foster respect for international law and treaty obligations in the dealings of organized peoples with one another." You have also stated; "The Indian National Congress has always represented a secular, democratic, just and inclusive India, an India that is empowering the disadvantaged and the discriminated, an India that is blending tradition with modernity is anchored in unity amidst its many diversities."
We respectfully request the Government of India to adhere to its commitment to democracy and provide the permission necessary for the Karmapa to travel abroad, now and in the future. We seek a diplomatic solution that will allow the Karmapa to fulfill his spiritual responsibilities through his presence in thousands of centers and monasteries all over the world. We call for Orgyen Trinley Dorje's immediate and unconditional release from confinement in India.
The International community stands together in concurrence for the Karmapa's human right to individual freedom of expression and action.
Petition

Global Petition to the Government of India

"Free His Holiness the Karmapa!"
The international community of Buddhist practitioners and supporters advocate the universality of the spiritual role of His Holiness the 17th Karmapa, Orgyen Trinley Dorje. He is respected in both Buddhist and non-Buddhist communities for his contributions as an important Buddhist teacher, a concerned environmentalist, poet, artist, musician and an extraordinary, compassionate human being. We have noted with concern, however, the excessive confinement of the Karmapa in India by Indian authorities.
The 17th Gyalwa Karmapa, Orgyen Trinley Dorje has been living under political and religious oppression in Sidbhari India since his arrival in 2000. He does not belong to India where he is confined as he was born Tibetan, yet he cannot return to Tibet due to the political and cultural upheaval caused by China's colonization of the country. The Karmapa's requests to travel and teach outside of India have been continually denied by the government of India for over ten years without justification. Due to these circumstances, the Karmapa's capacity to perform as a spiritual leader in our world has been significantly compromised.
The Karmapa has expressed a desire to expand his horizons and increase his understanding of western culture and our world at large. He has expressed this aspiration to his close supporters, in media statements, and in public teachings on numerous occasions. Since receiving refugee status in India, he is monitored and held in a crowded temple compound which he is not allowed to leave. His movements are limited and the required permits for travel are denied by Indian authorities considerably more often than they are approved. In 2008, after eight years of requests to travel outside of India, the Karmapa was granted permission to visit America for a brief two weeks. He taught and gave lectures in three major American cities and received numerous invitations to return. Since this event Indian authorities have denied the Karmapa's requests to return to America, again without explanation.
On April 4th 2010, the long-planned tour to teach in Europe was repudiated by the Indian government without any public statement. Thousands of tickets for the important teachings in nine European countries had to be returned and large groups were left disappointed. Many dharma centers suffered economically due to the unexpected cancellation. Similar circumstances occur when he applies to travel and teach within India. We believe the Indian government's actions in this situation are inequitable and unjustified.
The broader issue, which we address, is one of the Karmapa's basic human rights. The Karmapa is not a criminal, why is he treated as such? Orgyen Trinley Dorje is an important spiritual leader whose mission is to edify the principles and values of Buddhism and help others worldwide. The unreasonable and inconsiderate practice of confining him in India is a violation of his human rights and a blatant abuse of his freedom for religious expression.
We, the undersigned, firmly request the Government of India to address the unlawful confinement of the 17th Gyalwang Karmapa. We petition for his immediate release from confinement in Sidbhari India. We request his right to travel freely outside of India be respected and supported.