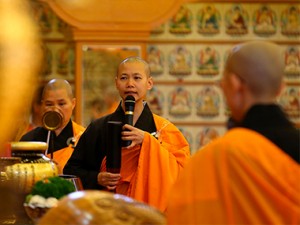 Traditionally, the doctorate was awarded only to the monks after 12 or more years of rigorous study in Buddhist philosophy. Officials say in 2012 a historic decision was taken by the Central Tibetan Administration (CTA) as advocated by the Dalai Lama that the doctorate programme for nuns be established.
"His Holiness was quite impressed at the level of knowledge the nuns showed at a prayer festival in Dharamsala in March 2012. He strongly recommended that the nuns should also be included in the Geshe process," said, Thubten Tsering, CTA's department of religion and culture joint secretary.
Geshe is the equivalent of a philosophy doctorate. Tsering said the decision in this regard was taken at a meeting of representatives from six nunneries, the Institute of Buddhist Dialectics and the Tibetan Nuns Project held in Dharamsala between 18-19 May, 2012.
According to him, a regulation on the conferment of degrees to the nuns studying at nunneries and Buddhist learning institutes was also formulated at the meeting. A nun who passes the final examination after completing a total of 21 years of studies is conferred the doctorate degree.
For Delek Wangmo of Dolma Ling Nunnery and Institute, who scored 72.08 percent marks in the first year examination, having the opportunity to receive a doctorate four-year degree is a dream come true for her and her sister nuns.
"Getting this degree after years of intense study of philosophical texts has given the nuns new energy to study even harder. It's the path that will lead us to work independently," said a post on Tibetan Nuns Project quoting Wangmo, who escaped from Tibet and arrived in 1990 in Dharamsala, where the Dalai Lama resides.
To graduate with a doctorate degree, one studies five Buddhist texts — all based on the teachings of the Buddha, over a period of 20 years. The method of study involves logical analysis and debate, combined with regular sessions of prayer and recitation.
The doctorate degree is known as Geshe when awarded to the monks and Geshema when awarded to the nuns. In 2011, Kelsang Wangmo, a German national who spent 21 years training in India, became the first woman to receive the Geshema degree and title.
At that time, the Dalai Lama, who has long been an advocate for the empowerment of women, advised the Institute for Buddhist Dialectical Studies in Dharamsala to confer the Geshema degree on the Western nun. The Dalai Lama, who is revered by the Tibetans as a living god, has been advocating that if it is useful his successor could be a female.
The 80-year-old pontiff, the global face of the Tibetan exile movement, lives in exile in this northern Indian hill town along with some 140,000 Tibetans, over 100,000 of them in different parts of India. Over six million Tibetans live in Tibet. The Tibetan exile administration is based here.


Source: Firstpost.com