Imagine this, if you can: a politician with the capacity to admit wrongdoing, resign and repent. A fairy tale, perhaps? Ladies and gentlemen, meet Japan's new Prime Minister, Naoto Kan.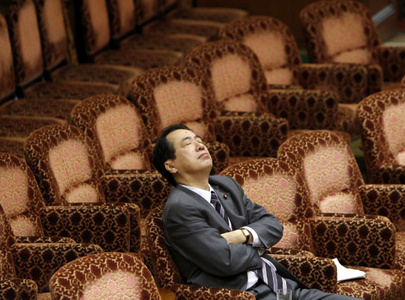 In 2004, when he was leader of the then-opposition Democratic Party, Kan was caught having failed to pay his proper contributions to a state pension fund.
Disgraced, he decided to atone.
He stepped down from his position as leader of the opposition, shaved his head, donned traditional Buddhist garb and went on a pilgrimage to the 88 Buddhist temples on the island of Shikoku.
Since then he has climbed his way back to respectability, becoming Japan's finance minister and, now, the country's fifth prime minister in four years.
He was confirmed this month following the resignation of Prime Minister Yukio Hatoyama.
Kan has never been what might be called a "typical" politician: his allegiance to principle and his record of acting on his beliefs make him stand out.
Unlike the preceding string of Japanese PMs, he comes from humble origins. Born the son of a salaried office worker in a coal mining town, he emerged on the scene in the 1970s as an environmental activist.
Though he won election to the Japanese Diet, or legislature, in 1980, it wasn't until the 1990s that he came to national prominence. In 1996 — as health minister — he exposed his own ministry's cover-up of HIV-tainted blood. Thousands of hemophiliacs had contracted the HIV/AIDS virus from tainted transfusions.
Kan blew the whistle on his own bureaucrats — and shot to fame.
Today, Japanese youth are skeptical about what they regard as a deeply conservative, ossified culture of government.
Whether a 63-year-old citizen-activist who started out with nothing but dreams and ideas can make them believers again remains to be seen.
But you can't say Kan isn't trying.
"Our first priority is to regain the trust of the people," he said last week.
---
Source: thestar.com