JIKJI, THE WORLD'S OLDEST METAL PRINTING METHOD
---
Aug 1, 2008
SEOUL, South Korea – Just a few hours ago, this page you are now holding was nothing but a blank piece of paper. With the help of a computer, color ink and a printing machine, this piece of paper is now covered with neat lines of letters and has been transformed into a newspaper.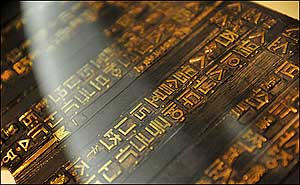 << A metal printing plate of the Joseon period, "Weolin-Cheongangjigok," on display at the Cheongju Early Printing Museum
Everything, from newspapers to books to posters on the streets is printed. Printing is closely related to our lives, but not many people are aware of Korea's printing technology and the history of its development.
Take a visit to the Cheongju Early Printing Museum at Cheongju-si, North Chungcheong Province, where the history of Korea's art of printing can found.
The museum has a wide collection of old prints and pictures of the Silla, Goryeo, Choseon periods, early printing machines, excavated relics, and even the temple itself, Heungdeoksaji, that housed printing of the oldest existing metal-type book, called Jikji.
First book published using metal printing method >>

Jikji, the first book using movable type, was printed in 1377, preceding Gutenberg's "42-Line Bible' by 78 years. The title Jikji was abbreviated from "Baekun Hwasang Chorok Buljo Jikji Simche Yojeol," meaning that one can have the spiritual awakening of Buddha by the nature of one's heart when one practices Zen. The book was a collection of passages written by revered Buddhist monks, intended to enlighten Buddhist students.
UNESCO registered Jikji with the World Registered Legacy on Sept. 2001, and also established the "Jikji Prize Award" to commemorate the registration of the oldest metal print book, as well as awarding individuals or organizations for the preservation and utilization of world heritages. The book is currently on display at the National Library of France.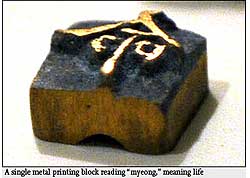 With 2,600 printing artifacts, from wood block printing to metal type, the Cheongju Early Printing Museum will bring the history of Korean printing to life. The museum comprises of five exhibition halls, one special exhibition hall, a library, and also a place where visitors can have a memorable hands-on experience of ancient printing.
For more information, visit www.jikjiworld.net or call (043) 299- 2581.
---
By Shim Hyun-chul
Source : The Korea Times