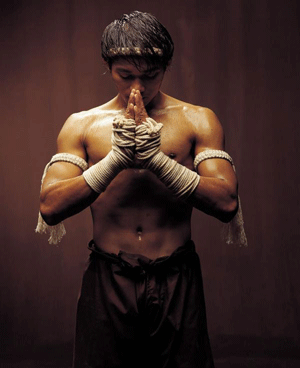 TwitchFilm is reporting that "Ong Bak" star Tony Jaa has left the film industry. On Friday (May 28th), he rode an elephant to a Buddhist temple in Surin, Thailand, where he shaved his head, took vows, and was officially ordained as a Buddhist monk.
This doesn't come as much of a surprise. During the second "Ong Bak" film, which Jaa directed, bizarre stories started to emerge. There have been rumors that he sacrificed chickens before each day of shooting, and then eventually crumbled under pressure. He disappeared for two months to go practice black magic in the woods of Cambodia.
After being brought back home, Jaa went on television, crying and vowing to complete "Ong Bak 2." But that wasn't the end of that. He started to make demands like being released from his contract with the Sahamongkol production company. Soon after, he was grabbed by a car full of tough looking men working for company, prompting reports that he was kidnapped. But Jaa soon reappeared and begged to take refuge at a police station, where he later met with Sahamongkol boss Sia Jiang.
The meeting led to Jaa dropping his demands and agreeing to split "Ong Bak 2" into two films in order for the company to be able to recover its costs.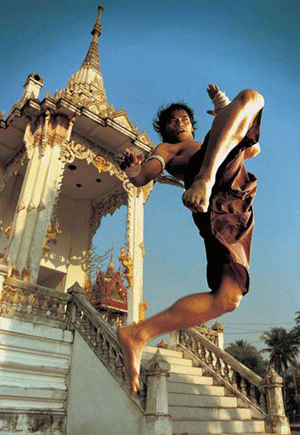 Now, Jaa has completed his obligations on "Ong Bak 3" and has decided to get away from all the chaos by becoming a monk. It is not expected for Jaa to remain in the monastery forever, but he will likely remain there until his original ten year contract with Sahamongkol expires.
Source : http://www.worstpreviews.com