'Why Aung San Suu Kyi must be freed':
Bruni's open letter to junta
Tuesday May 19, 2009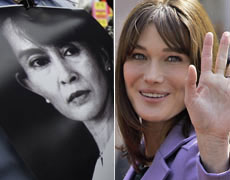 France's first lady called on Burma's ruling military junta to free pro-democracy leader Aung San Suu Kyi, who went on trial in Rangoon today.
In an open letter entitled "Why Aung San Suu Kyi must be freed", Carla Bruni-Sarkozy said that Suu Kyi's poor health meant that her life could be at threat if she was sent to prison.
Suu Kyi is being tried on charges she violated conditions of her most recent house arrest by sheltering an American who swam to her lakeside home this month.
She had been scheduled for release from house arrest at the end of May but now faces up to five years' imprisonment.
"It's a question of simple humanity to allow a sick woman to be freed so she may get herself treated properly," said the letter.
"To imprison her, and all of the regime's opponents, is to smother any hope for democracy in Burma," said the letter.
Bruni-Sarkozy said she was speaking on behalf of those in France who "find the fate reserved for this woman intolerable."
Advertisement
Advertisement
French Foreign Minister Bernard Kouchner also denounced Suu Kyi's trial, which he called a "scandalous provocation" and an attempt by the government to neutralise a major political opponent before upcoming elections.
"I hope that any sentence (levied against Suu Kyi) will be only theoretical," Kouchner told France-Inter radio on Monday.
Suu Kyi's party won a landslide victory in Burma's democratic elections in 1990, but the ruling military government refused to honour the result. The Nobel laureate has spent more than 13 of the last 19 years in government-ordered detention.
In Paris, demonstrators gathered near the Burmese embassy to condemn the trial. Protesters, some brandishing red and yellow flags reading "Freedom for Myanmar (Burma)," included representatives of Amnesty International, French women's rights advocates and Burma nationals.
"All of this is utter manipulation by the junta," said Khin Zin Minn, an activist who immigrated from Burma to France in 2002.
Like some of the other Paris protesters, Minn suggested that John William Yettaw – the US citizen who swam to Suu Kyi's home – had been encouraged to do so by the Burmese government.
British-born actress and singer Jane Birkin, a longtime supporter of Burma's pro-democracy movement concurred, saying the incident "fell like bread from the sky for the military junta."
Another Paris demonstrator, former opposition politician Maung Hla Aung, called the trial "an insult to the whole Burmese population."
He said Suu Kyi represents the "the sole hope" for human rights in Burma, which has been ruled by its military since 1962.
– AP