SPIRITUAL MOTHERING
---
July 27, 2008
Raising a child is a devotional path, a model of selfless service
Bangkok, Thailand – 'Bloom where you are planted." That is the motto of Jacqueline Kramer, who believes mothers can attain enlightenment right in their kitchen while cooking dinner or doing the dishes.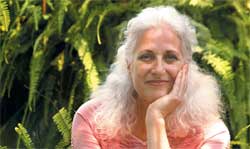 << Jacqueline Kramer, "Buddha Mom"
The motto comes from a poster where she had a retreat many years ago, said the author of Buddha Mom, a book on the spirituality of mothering.
"It dawned on me that I didn't need to go to far-off places or engage in strange unfamiliar practices – I can become enlightened right here where I am, right now, as I engage in mothering and householding."
Motherhood is often glorified to silence women's self-realisation urges. Homemaking and service is also often demeaned as a symbol of female subjugation and weakness. For Kramer, motherhood is a perfect spiritual practice.
"Motherhood is a beautiful container of the virtues we need to develop our spirituality," she explained. "While monks and nuns in different faiths devote themselves to develop unconditional love, selfless service, good will, joy for others' happiness and the ability to let go, these are actually what mothers do in their everyday life."
If mothers do their selfless nurturing while practising mindfulness – being constantly aware that whatever arises will pass away naturally without being lost in the ups and downs of emotions – then they can grow leaps and bounds spiritually, she advised.
Writing from her own experiences as a single mother and a meditation practitioner, Kramer's Buddha Mom: The Path of Mindful Mothering has inspired many mothers to bring spirituality into their lives.
Recently in town to receive the Outstanding Buddhist Women Award, Kramer, 56, has also set up free online classes for mothers who want to grow spiritually and can study more deeply about the Buddhist teachings or share their experiences at their own pace, in their own time.
Clad in a light pink casual outfit, Kramer's long silver hair and sparkling eyes expressed a childlike joy as she recounted how she discovered Buddhism and how mindfulness plays a major role in her mothering.
Born into a Jewish family, Kramer says she is blessed to have a mother who allowed her and her brother to explore their own spirituality.
It was her brother who first showed her the power of mindfulness practice. "I saw he returned from a retreat clear and calm. So I decided to give it a try. I was amazed at how calm I felt," she said.
From there, Kramer started learning more about the teachings, which made her realise that meditation is more than a stress relief technique but a spiritual practice to understand Nature's law of impermanence in order to transcend the false sense of me and mine.
It came to a point when she wanted to be ordained. But her meditation teacher asked her to consider setting an example for lay female householders instead, which has been her life mission ever since.
When she started a family and became pregnant, Kramer already had practised mindfulness meditation for three years. Being in the present moment helps to do away with the fear and anxiety many women experience during pregnancy. The big mindfulness test came in the delivery room when the pain of birth hit her in successive waves.
"I just watched the pain, being aware of each moment without thinking. I just experienced it and surrendered. I eventually became relaxed and soft when I gave birth, being happy and in the present.
"It taught me that we cannot escape pain but suffering is an option," she added.
Mindfulness has taught her that happiness is a choice.
"When confused or in a bad mood, don't deny it. Just see it, observe it, don't fight against it. Surrender and watch it without judgement, and the dark feeling will miraculously dissolve by itself," she continued.
Being in the present moment in whatever one is doing, be it cutting vegetables or washing the dishes, the mindful state will create a space between oneself and the problem. "With space, you can look at things fresh, and solutions will come from that," she said.
Motherhood, she says, embraces all shades of metta (loving kindness), karuna (compassion), mudita (appreciative joy) and upekkha (equanimity).
"Motherhood gives us a glimpse of unconditional love. It expands our capacity to love, to give and to empathise with others in difficult situations," she added.
Meanwhile, the joy of watching one's child learn how to talk, walk and progress through each step in life – a practice of mudita – helps make the difficulties in parenting bearable and everyday life fulfilling.
When a child grows older and becomes a teenager, however, "that's when equanimity comes to our rescue", she mused.
"Upekkha, or onlooking equanimity is the ability to observe struggles, joys and all other states of the mind with open and loving detachment," she explained.
"Upekkha comes from the realisation that pain is part of growth and human condition. It is the courage to look on lovingly at things we cannot change. It's the courage to let our children be who they are, to accept that we don't have control. That we can only influence," she said.
This process of letting go is an important aspect of Buddhism. "That's why mothering is a direct path to spiritual insight," she affirmed.
Equanimity is also the courage to resort to "tough love" when need arises.
"Tough love demands letting our children experience the consequences without interfering but with deep love in our hearts," she said.
Be it about sacrifices or tough love, the spiritual mother spoke from her own real life experiences.
Kramer became a single mother when her daughter Nicole was three. Choosing to fashion her work around her daughter's schedule, she sacrificed a job as a professional singer, which would have required her to be away from home on tours, and decided to work as a part-time singer and nurse's aide.
While mothering teaches her selfless love for her child, it has also taught her, through tears and laughter, she needed to have enough loving kindness for herself, too, in order to be able to forgive herself for letting negative thoughts and emotions take over.
Such mistakes are frequent. And without self-forgiveness, one cannot possibly go on trying again and again to undo ingrained habits that unleash hurtful words and actions that one later regrets.
What to do when challenged with an argumentative child? Kramer's advice: Be mindful. And use anger as a meditation object.
"Everything that happens can be used as a gate to enlightenment," she explained, drawing from the teachings in Zen Buddhism.
"If angry, use it as a gate. By not resisting it, not thinking that you or your emotions are bad, by just letting it be, watching it without feelings of stress or fear, there will be space around the emotions. Then you won't have the reactions you used to have.
"By not resisting it, it disappears. By not giving anger any more power, it fades. It's incredible. Then there will be more peace in the home," she explained.
Anger does not disappear overnight with meditation, however. Things that bugged you still do but not as strongly, which is why continued practice is all the more important.As part of her daily practices, Kramer has turned everyday life routines into mindfulness practices. "While I was watching vegetables, for example, I was aware of what I was touching. I felt the knife go through the vegetables. I watched my thoughts, my feelings, my words.
"By being mindful, no matter how your life is, what's before you is always fresh and new."
To help with daily practices, Kramer also does her retreat once a year to deepen the calmness and insight needed to cope with the challenges and uncertainties each day brings.
By being mindful, she has discovered free will to choose to be happy or unhappy. There are always good and bad sides in all things, she said. "Our free will gives us the power to choose what to focus on. This is the greatest power we ever possess."
By being in the present moment, she also has stopped blaming others for her problems. "I've come to realise that my happiness does not depend upon the environment. It is something I carry inside me and I am responsible for my own happiness."
Meanwhile, she has discovered that the life of service, both at her home and at the nursery, is a boon to her spiritual practice. "I learned that the surrender of ego must precede selfless service," she said. From that springs generosity. "Joyful service also connects us with those around us."
Focusing on helping others also takes one's mind out of one's problems. "By taking a break from my negative thinking I can shift the course of my thoughts from destructive to productive."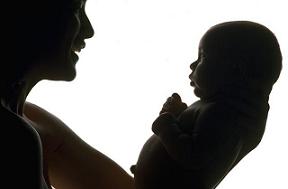 Despite the joy of motherhood, parenting for her is not always a pretty picture. "By the time Nicole was 14, she was totally out of control," she recalled. Out of "tough love" she decided to send Nicole to a camp for attitude adjustment.
"There is a fine line between equanimity and coldness," she noted. "But out of love, you need to do what we have to do to instil strong discipline with loving support.
"Back then, I lit a candle each night when not having control to remind myself that I'm here for now, and to hold on to love as a mother, knowing that nothing can change that love."
While a spiritual practice can help a mother calmly cope with the child's teenage angst, sports, music, any forms of passions will provide some discipline, which will help them through to adulthood against negative peer pressure and media influences, she advised.
"Remember, the child learns from who you are. It won't show when they are teenagers. But it will show itself."
While the teenage years are often stormy "the good news is that they eventually come back to you", she said, beaming. She and her daughter, now 26, and a mother herself, are closer than ever before.
Now, for Kramer, it is time for sharing. And time to give motherhood its due respect. Both in the society driven by material success and in the realm of Buddhism.
With society looking down on service, women who are happy to serve her family and community are underappreciated, undervalued and underpaid. Kramer knew it firsthand. Describing herself as a homemaker most always guaranteed a disapproving look. "And when I worked as a nurse's aide, I was treated like a second-class citizen."
But service is a core aspect of feminine psychology and spirituality, she pointed out. It requires generosity, endurance and selflessness – all the important values all faiths say are necessary for a happy society.
"We need the balance between yin and yang, between feminity and masculinity to create a happy society," she added.
When competition and conquest – often defined as masculinity – has become the world's obsession, the imbalances have generated violence in both personal lives and society at large. For Kramer, the first step to strike a balance is to respect the value of service and those who serve.
As a lay female Buddhist, Kramer's other mission is to prove that female householders can also attain enlightenment. So far she has not yet found any such stories in the ancient texts, although it is impossible to believe that it has never happened.
"Why haven't their stories been passed down?" she asked. "Is it because women were illiterate, too busy to write, or is it because they lacked meditation access? Whatever the reasons, it is now time to gather stories of mothers' enlightenment experiences for our daughters and sons."
It is not out of pride. Rather, it is an effort to make spiritual practices more women-friendly by recognising women's nature and conditions in order to make spirituality possible through their own specific experiences.
For mothers, it is empowering to realise that raising a child is a spiritual service and mothering is a model of selfless service. Knowing that they are actually on a spiritual path, they can turn their home into a temple, use everyday challenges to develop mindfulness and loving kindness, and use their own children as their teacher of impermanence, surrender and letting go.
"Children grow. They change every minute. And they leave us one day. They are not ours. No one is. They are temporarily in our care.
"Things are always changing. And when I am aware of the fact that the situation I am in will change, then I can keep a sense of humour. I can take a deep breath and count to 10."
With that, whatever seems unbearable lightens. Enlightenment may be many lifetimes away, but spiritual mothering – as Jacqueline Kramer has found – will make a long journey joyful, here and now.
---
Story and photo by SANITSUDA EKACHAI
Source : The Bangkok Post