LARGEST CAMBODIAN BUDDHA RESURRECTED IN SIEM REAP
---
June 4, 2008
PHNOM PENH, Cambodia – The largest reclining Buddha in Cambodia, part of the Baphuon Temple at Angkor in Siem Reap province, has just opened to the public, the Mekong Times newspaper said Wednesday.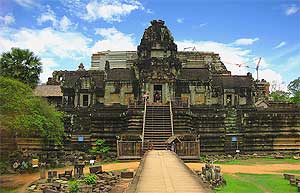 The Buddha is a 16th century addition to the west face of the 11th century Hindu Baphuon temple, the newspaper said, adding that it marks a religious schism between the Brahmanic Angkor society and the Buddhist culture that arose later.
The Buddha is one of the final stages of the reconstruction of the temple, with the three tiered monument slated to be fully open to the public by the end of 2009.
The restoration of the temple has been an epic journey, begun by the well-known French organization Ecole Francaise d'Extreme-Orient (EFEO) before the civil war in 1970. The project was interrupted by the war and resumed by the EFEO in 1995.
The Reclining Buddha, a representation of the Buddha after attaining enlightenment, is 70 meters long and 12 meters high. The French have undertaken nine years of "complex work" on the statue, which is one of the "most astonishing" archeological remains of the post-Angkorian period, according to a French Embassy press release.
---
Source : Xinhua