HUNDREDS OF BUDDHIST FOLLOWERS GREET ARRIVAL OF THE 17TH KARMAPA IN WOODSTOCK
---
May 21, 2008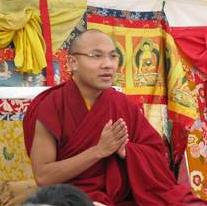 WOODSTOCK, USA – The blast of a double-reed horn brings the crowd to its feet. The anticipation builds as they wait, hands clasped, craning to see one of the world's foremost Tibetan Buddhist leaders enter the shrine room at this mountaintop monastery.
The master teacher acknowledges his followers with a glance. He turns around and takes his seat facing a gold-leafed, 11-foot Buddha statue. He looks solemn. He is 22.
This ceremony Tuesday in Woodstock was a moment some have awaited for decades. The leader, Ogyen Trinley Dorje, is revered as His Holiness the 17th Karmapa. He leads the Kagyu sect of Tibetan Buddhism.
Some speculate he may one day succeed the Dalai Lama as the leading icon of his faith, which has been in the world's spotlight amid China's recent crackdown on protests in Tibet.
The Karmapa is visiting his North American seat in Woodstock this week as part of his first trip to the United States. It's a chance for American Buddhists, including dozens from the Albany area, to see a man whose quasi-mythical life has already been chronicled in at least three biographies.
In Buddhist tradition, each Karmapa is a reincarnation of his predecessor. In 1992, the Dalai Lama recognized a young boy in Tibet as the 17th Karmapa. Some seven years later, that boy, Ogyen Trinley, gained international fame for his Himalayan-crossing escape from China to India, which granted him refugee status. The Indian government had prevented him from traveling internationally until now because of concern over relations with China.
Finally having the Karmapa in his North American seat is an experience that will take weeks of meditation to fully appreciate, said Eva Marks-Curatolo, a teaching assistant from Scotia.
"On one level it's like Christmas — Santa Claus is here, and you're thrilled," she said Tuesday on the bus ride down Meads Mountain from the Karma Triyana Dharmachakra monastery, in the Catskills about an hour south of Albany. "On another level it's much more profound."
She was lucky to see him at all.
In 2006, the Dalai Lama spoke before thousands at Andy Lee Field. But the Karmapa's Woodstock events, expected to draw more than 1,000 by the time they end today, are invitation-only. The State Department provided protection. The monastery was in lockdown mode. His Holiness gave no interviews. Reporters were asked not to holler questions.
The situation left uninvited local Buddhists like Tashi Palden struggling to find some way to get in. Palden, owner of a Tibetan gift shop on Madison Avenue, is Tibetan. His father died in Tibet one week ago.
"I have to see him — Karmapa," Palden, 35, said this week. "Karmapa is a holy man, and he can help my father in a spiritual way."
In Woodstock, Tuesday began with a consecration ceremony in the shrine room, which was featured in Martin Scorsese's movie "Kundun." The structure did not exist when the Karmapa's predecessor last visited in 1980.
The room is smaller than many church sanctuaries. It was a sensually rich experience for the lucky hundreds inside: incense, chanting, drums, bells, maroon robes, walls decorated with lotus flowers, paintings of great masters.
The crowd skewed older. Jewish-born Susan Pasternack, 65, was introduced to Buddhism 30 years ago while walking in Woodstock, where she lives. "Do you want to change your life?" someone shouted. "Get yourself a Buddhist housecleaner."
Dean Hill, 36, a legislative analyst from Slingerlands, said the Karmapa himself "seems older than he is." Hill had seen him on YouTube and DVDs.
Anyway, his upbringing hasn't been typical, said Sara Cintron-Schultz, 19, of Connecticut.
"While I was going out and watching TV and doing teenage things," she said, "he was studying intensely."
Parry can be reached at 454-5057 or by e-mail at mparry@timesunion.com.
---
By Marc Parry
Source : Albany Times Union