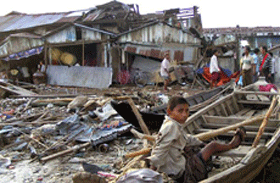 Dharamsala – 8 may 2008
In a letter to Mr Jacob Kellenberger, president of International Committee of the Red Cross, sent on 8 May 2008, His Holiness the Dalai Lama said: "I am deeply saddened by the catastrophe caused in Burma by the recent Cyclone Nargis. I am shocked by the destruction, especially by the high number of people who have perished as a result. This catastrophe has compounded the problems of poverty that already exist in Burma."
Cyclone Nargis hit Irrawaddy river delta region in Burma on 3 May 2008, killing thousands and causing widespread damage. The worst-hit areas in Irrawaddy Delta are Bogalay, Laputta, Mawlamyaing Gyun and Pyapon townships.
According to the U.N. the 3 May cyclone may have killed between 62,000 and 100,000, and left up to 2 million survivors facing disease and starvation.
The international community has poured in large-scale relief efforts to help the victims of cyclone areas in Burma.
Source : www.tibet.net