SENIOR THAI BUDDHIST MONKS IN EGYPT FOR TALKS WITH SUNNI MUSLIM LEADER
---
March 9, 2008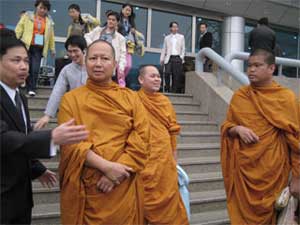 CAIRO, Egypt – Five senior Thai Buddhist monks arrived in the Egyptian capital on Sunday for an official visit in which they will hold talks with the Sunni Muslims' highest spiritual leader later in the week.
The Thai monks, led by Phra Dhramakosajarn, rector of Mahachulalongkornrajavidyalaya University, were welcomed by Thai ambassador to Egypt Noppadol Theppitak upon their arrival in Cairo.
Mr. Noppadol said the visit by the Thai Buddhist monks to Egypt marked the first time for an official meeting between leaders of the Buddhism and Muslim religions in Egypt.
He said the Thai monks would meet and confer with Sheikh Muhammad Sayyed Tantawi, highest spiritual authority for Sunni Muslims in Egypt, on Tuesday and Wednesday.
Both sides were expected to exchange religious teachings which could help reduce misunderstanding and mistrust between Thai Buddhists and Thai Muslims in Thailand's deep south, which has led to renewed violence and the deaths of around 3,000 people over the past four years.
Last year, Sheikh Tantawi visited Thailand and visited the acting Thai Buddhist monks leader.
---
Source : TNA