27.01.2009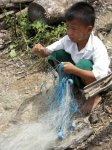 Yangon (AsiaNews/Agencies) – Small children forced to work for a "wage" less then 30 cents of a US dollar a day. The alarm is being sounded by a non governmental organisation – that asks to remain anonymous for security reasons – in Myanmar, according to who the practise of the forcing minors to work, in slave-like conditions, is still widespread today. Among those worst hit are children in the Irrawaddy delta region, badly hit by cyclone Nargis last May.
Burmese businessmen, fishermen, and farmers use male workers aging between 10 and 15 in order to pay out below minimum wages: for one working day the children receive a wage that varies between 300 and 1000 kyat ( 0.25 – 0.85US dollars), compared to an adult wage that varies between 1500 and 3000 kyat (1.50 – 2.50 US dollars).
"Children willingly work for 300 kyat and a meal", says a member of the NGO, while local sources add "they are easier to control and they put up with heavy workloads". In Myanmar it is not uncommon to meet children as young as eight who work aboard fishing boats, as waiters in the building industry or in the fields.
"I am tired but I am happy that I survived", 10 year-old orphan Myo Min tells The Irrawaddy. Now he lives with his brother and works full time on a fishing boat. 11 year-old Po Po, also lost a brother and his father last May: he has abandoned his studies and now works as a waiter in a restaurant in Labutta. He earns 5000 kyat a month (equal to 4.20 US dollars) as a dishwasher and says he cries "every night" because he misses his mother.
According to the international organisation Save the Children An estimated 400,000 children did not return to school after the cyclone; about 40 percent of the 140,000 people who were killed or disappeared in the cyclone disaster were children. Many who survived were orphaned or separated from their parents.
---
Source : www.asianews.it